Forklift Error Code
Forklifts are one of the most powerful vehicles for builders. Whether you need to move heavy loads in a warehouse or construction field, forklifts can safely lift objects humans cannot, making them indispensable on any job site.
A forklift error code is an indication that there is a problem with the forklift.
Forklift faults indicate that there is something wrong with the machinery or its parts. If you are having problems with your forklifts, call for help from our forklift troubleshooter.
For a diagnosis of your forklift, you can use our troubleshooting guide to find out what is wrong and how to fix it.
Forklift Maintenance
Forklift Maintenance is an important part of your forklift's life. The forklift is a valuable piece of equipment that you use to move materials around your facility. It is important to keep the forklift in good working order so that it will last as long as possible and continue to do its job efficiently and effectively.
If you're having problems with your forklift, you can find help from a forklift troubleshooter. A forklift troubleshooter will be able to look at your equipment and determine what needs to be repaired or replaced. They can also give you advice on how best to keep your forklift operating at peak performance.
Forklift Types :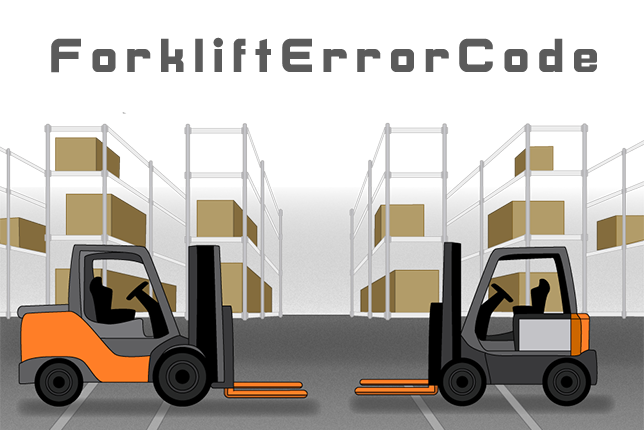 Electric Motor Rider Forklifts
Electric Narrow Aisle Forklifts
Electric Motor Hand Forklifts
Hand-Rider Forklifts
Internal Combustion Engine Forklifts
Internal Combustion Engine Forklifts
Rough Terrain Forklifts
Swing-Reach Forklifts
Multi-Directional Forklifts
Sideloader Forklifts
Cold Storage Forklifts
Explosion-Proof Forklifts
Counterbalance Forklifts
The most common type of forklift truck, these models have protruding forks at the front of the machine that allow for straightforward operation and lifting. True to their name, these types have a counterbalance design that incorporates a weight at the back of the truck to offset the load lifted at the front.
Reach forklifts
So named for their extended lift height, reach forklifts are invaluable for situations that that involve high rise pallet storage. Reach trucks are also space-saving and have ability to access narrower aisles, along with being very rigid which enables them to lift heavy loads to a tall height.
Stackers
Usually operated from a standing position, stackers are often electrically-powered. Safety and maneuverability are important features of stackers. Different types, such as powered stackers, wrap over stackers, and electric straddle stackers, will offer their own benefits; for example adjustable straddle legs, retractable masts, compact chassis, and controlled load handling.
Order Pickers
To meet the distribution needs of modern businesses, order picking forklifts are vital additions. Powered electrically, these trucks often have an elevated driver platform and elevating forks that allow for easy placement of the chosen items into the pallet area.
Hand Pallet Trucks
They operate by slipping the fork underneath a pallet and using a hand-operated, hydraulic jack to lift the load. Thanks to a reasonably small chassis length, they still maintain a high degree of maneuverability, and the light components mean it can be easily carried and stored.
Powered Pallet Trucks
Like their hand-operated cousins, powered pallet trucks operate by slipping a fork underneath the pallet, though with the main difference being that these varieties are motor-powered. Thanks to its speeder rider mode, pallets can be distributed quickly around a warehouse for ultimate time-saving ability. They are also more adept to handling taller pallet stacks with greater ease.
Forklift Brands :
List of forklift brands to check their fault fault codes.
Safety Forklift Drive Steps :
After checking forklift error code and fixing ways;
Only drivers authorized by the employer, licensed and trained in the safe operation of industrial trucks, pallet jacks or industrial tow tractors will be permitted to operate such vehicles. Methods will be devised to train operators in safe operation of powered industrial trucks.
Drivers will check the vehicle at least once per shift, and if it is found to be unsafe, the matter will be reported immediately to a supervisor, foreman or mechanic, and the vehicle will not be put in service again until it has been made safe. Attention will be given to the proper functioning of tires, horn, lights, battery, controller, brakes, steering mechanism, and the lift system of forklifts (forks, chains, cable, and limit switches). Electric pallet jacks must include the proper functioning of the horizontal and vertical emergency stop systems.
Vehicles will not exceed authorized or safe speed, always maintaining a safe distance from other vehicles, keeping the truck under positive control at all times and all established traffic regulations will be observed.
For trucks traveling in the same direction, a safe distance may be considered to be approximately 3 truck lengths or preferably a time lapse-3 seconds passing the same point. A turn will never be made at such a speed that will cause the fork lift or pallet jack to overturn, due to the centrifugal force of gravity. Fork lift and pallet jacks have a very high center of gravity and will turn over when a turn is made at excessive speed.
NO RIDERS WILL BE PERMITTED ON VEHICLES. A person may not ride or be elevated on the forks of a lift truck or pallet jack without the use of a safety platform.
Forklift errors and faults can be quite frustrating, especially if you're trying to troubleshoot a problem with your forklift.
Forklift errors are not uncommon, but they can still be dangerous if not dealt with quickly. If you're experiencing one of these common forklift errors or faults, don't wait any longer to fix the problem!
In this website, we'll discuss some of the most common forklift problems and how to deal with them.